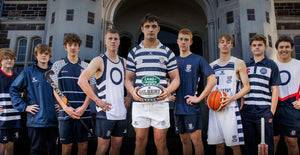 GILBERT teamwear.

play with purpose.
Gilbert has an extensive range of stock and custom apparel to suit your club or school's needs
For more than 50 years, GILBERT has been providing high quality, custom apparel for grassroots sporting teams, schools, and clubs around the globe.
Play with purpose in 2023 and speak to the team at GILBERT about your on and off-field teamwear requirements. We specialise in the delivery of made to order apparel, produced to the highest standards, providing maximum comfort, movement, and the knowledge that your kit will withstand the harshest conditions and toughest treatment.
When you choose GILBERT, you are accepting first class customer service, an outstanding global reputation and unbeatable quality.
Click here to view our 2023 Stock Teamwear Catalogue.
THE FULL GILBERT EXPERIENCE
We take time to understand your needs, brand & heritage
When it comes to designing on and off-field apparel ranges, it's important to create a range which respects your club or organisations heritage, but that is also on brand and current in regard to design and structure.
Gilbert's design team have been at the forefront of high-end apparel design for decades and will work with you to ensure you create a range which will be widely accepted by fans, sponsors and the playing group.
No matter what sport you play, Gilbert will have you playing with purpose in 2023.
Gilbert's tried & tested apparel programs trusted around the globe
Relationships are at the heart of everything we do at Gilbert, and we've spent decades perfecting our craft, so that you can play with purpose and have the comfort that our experienced teams will work with you through every step of the process, ensuring your garments meet your delivery requirements.
It's through the provision of quality garments, coupled with industry leading customer service, that teams, organisations and businesses continue to trust in Gilbert's tried and tested apparel programs.
build your organisations revenue with gilbert's e-commerce offering
Looking for an e-commerce platform?
Talk to the team at Gilbert about creating a store for your organisation. Our team store provide you with an opportunity to promote your products in a professional manner and introduce new products and specialty items without the risk of ordering minimum quantities.
Team stores are a great way to build club revenue and promote your merchandise to an already engaged fan base.
APPArel partner testimonials
★★★★★

"Northern Suburbs Rugby Union are delighted to endorse Gilbert Rugby as our Official Apparel & Equipment Partner. As a Premier Club, Gilbert have both met and exceeded all expectations with regard to quality, delivery, professionalism and communication. 

The clothing supplied has been of the highest standard and met with extremely positive player feedback. 

We would have absolutely no hesitation in recommending Gilbert to any other sporting clubs or schools."

Northern Suburbs Rugby Club

Apparel Partner
★★★★★

"Maitland Rugby Club went out to tender for playing kit, equipment, and off-field apparel: Our key requirements were quality, delivery timeframes, cost, and ease of ordering. We looked at eight different companies and Gilbert Rugby was the outstanding choice for our club.

Since we began the partnership I have found Gilbert Rugby and in particular Nathan Sullivan have been excellent to deal with and have exceeded all of our expectations.

The quality and the extensive range of product is great and we could not ask for more. I look forward to continuing our partnership for many years to come."

Maitland Rugby Club

Apparel Partner
★★★★★

"Gilbert Rugby have been a dream to deal with and have delivered on all our key priorities.

The quality and the extensive range of product is truly top notch but the important thing for clubs and for NSWCRU is that there are many tiers of offerings and products. NSWCRU use all tiers of the Gilbert product range and all have been outstanding quality. 

Having a great range of products and different price points has enabled NSWCRU to dial up and down which products our teams want. This is great for clubs with differing budgets and will ensure you will always get a great quality product. 

NSWCRU cannot recommend highly enough the service and product that Gilbert Rugby provide."

NSW Country Rugby Union

Apparel Partner
★★★★★

"Gilbert has been the Official Supplier of Rugby Apparel and Supporter Merchandise to Southern Districts Rugby Union Club since 2016. We have been impressed by the professionalism and efficiency displayed by Gilbert Rugby, as they have met and exceeded our expectations during this time.


Gilbert Rugby has been accommodating to our requirements and conscious of the time critical nature of the industry that we operate in. They have been flexible when required and extremely reliable.

We would have absolutely no hesitation in recommending Gilbert Rugby to other Premier Grade Rugby Union Clubs."


Souths Rugby Union Club

Apparel Partner
★★★★★

"Gilbert Rugby is Brisbane Grammar's rugby equipment (balls, shields, bags etc) supplier as well as apparel partner. Gilbert's product (equipment and apparel) is world class.


The brand has been exceptional to deal with. Gilbert has been extremely timely with quoting and provision of product drafts and sampling, as well as being highly accessible in answering enquiries.


I have no hesitation in recommending Gilbert as a product choice."

Brisbane Grammar School

Apparel Partner
★★★★★

"Gilbert Rugby has been the Official Supplier of Rugby Apparel and Supporter Merchandise to Sunshine Coast Grammar School since 2019. We have been impressed by the professionalism and efficiency displayed by Gilbert Rugby, as they have met and exceeded our expectations during this time.

The clothing supplied has been of the highest standard and been durable to meet the demands of rugby players of all levels. It has assisted our players, both male and female, in their performance on the field.

We would have absolutely no hesitation in recommending Gilbert Rugby to other school Rugby programs."


Sunshine Coast Grammar School

Apparel Partner
★★★★★

"The College has been impressed by the professionalism and efficiency displayed by Gilbert, as they have met and exceeded our expectations during what has been a very challenging time due to COVID.

They have been flexible when required and extremely reliable. The clothing supplied has been of the highest standard and been durable to meet the demands of the many sporting codes our boys play.

We would have absolutely no hesitation in recommending Gilbert to other Schools, and Sporting Clubs or Provinces."

John McGlashan College

Apparel Supplier